Single Row Cylindrical Roller Bearings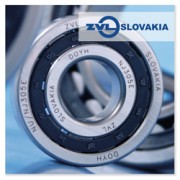 Single row cylindrical roller bearings are able to carry large radial load on a relatively small space. Some applications are able to carry also axial load in one or both directions. Raceways of the outer and inner rings together with the sheet profile of the cylindrical rollers in the shape of ZB allow optimal distribution of the contact pressure in the rolling space. This arrangement also allows advantageous formation of lubrication film between the contact parts of the bearing, optimal rolling, decrease of friction, growth of temperature and therefore lower stress of the junction in the arrangement.

At the same time certain mutual misalignment of the rings is allowed and so the bearings cope better with the real operating conditions and contribute to a better reliability and durability during the operating life of the bearings. Cylindrical Roller Bearings are suitable for arrangements, with high requirements for load transfer in connection with high rotation speed, e. g. machine tools, rolling mills, vehicle axle, etc.
---
---
Showing 1 to 12 of 575 (48 Pages)